From pet lovers to pet lovers!
We are Guangzhou Pata Trading Co., Ltd
We believe that every animal deserve an opportunity to live their happy lives! Our mission is help to all pets, no matter what their behavior, how small or big they are or how old they are. We work hard to give pets better life and we know that every pet deserve second chance.
Our Promise:
Respect all living things, especially animals and pets because they rely on us.
Embrace a corporate duty to respect the environment and our precious natural resources.
Focus on product quality and customer satisfaction.
Company Name:AIMARK LTD
Registration Number:10853964
Company Address:Chase Business Centre,39-41 Chase side ,London,United Kingdom,N142BP
(This is not a retunring address,This address is for the company's operations team)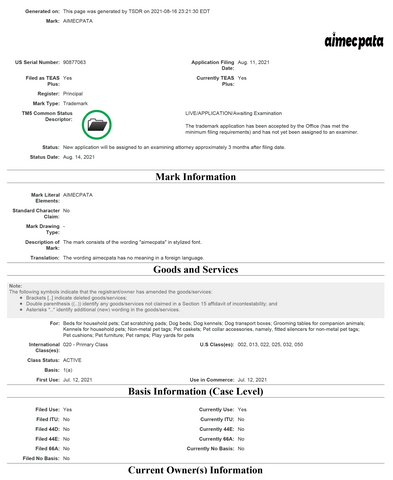 Sunday,Monday,Tuesday,Wednesday,Thursday,Friday,Saturday
January,February,March,April,May,June,July,August,September,October,November,December
Not enough items available. Only [max] left.
Browse Wishlist
Remove Wishlist